Yahallo everyone!
Since its release in 2013, one of my favorite series, hands down, has been Oregairu.
My Teen Romantic Comedy Is All Wrong (or Oregairu for short) is a Japanese light novel, anime and manga series created by Wataru Watari. It follows the story of Hikigaya Hachiman, a loner who gets roped into joining his school's Service Club along with two other girls. They solve the problems of the people around them and begin to grow closer to each other in the process.
I grew more and more interested in the series because of how well-written and relatable the characters were, especially the main character, Hachiman.
With the light novel completed in April and manga still ongoing, the anime entered its final season this summer. Because of how busy this semester has been, I didn't have a chance to catch up on the final season's episodes until a few nights ago.
Despite the character facial animations being a little wonky this season, one of the undoubtedly best animated moments was the rap battle scene. It definitely caught me by surprise, and now I can't count how many times I've re-watched it!
Hikigaya has since then been fondly dubbed by the anime community as "one of the top ten rappers that Eminem was too afraid to diss".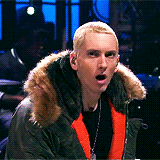 Check out the video below! 😀