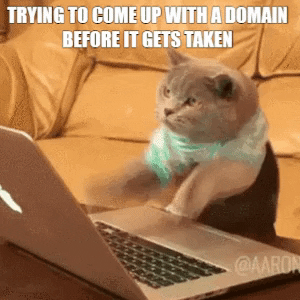 Before hearing Professor Ryan talk about domains in class I never gave it much thought. Honestly, it's something I wasn't even aware of that was available to the general public. I am excited to create a domain for myself and be able to register it.
Five Potential Domain Names:
erickaherrera: It's simple and professional
eeh: This is an abbreviation of my name, Ericka Elizabeth Herrera
Eche: Another play on my name. Ericka Elizabeth Herrera Compoverde. I also like that it means to increase and everlasting.
erickughh: This is my Instagram handle and it would be nice to have the same handles throughout all platforms. It's easier for people to connect with you.
erickanyc: I love venturing out in the city and I think it would be cool to blog about my outings and adventures.

I have a couple of hobbies that I would like my blog to be about. It includes plants and exploring the city. I also love interior design. I think it would be best if I had a life-style type of blog so that I can express interest to all my hobbies.
This is my favorite plant blog. It's very informative and provides  a lot of care tips for a variety of plants.
This my favorite fashion blog. I love the aesthetic of it and the layout of the page. It always draws you in.
I am excited to create my own website! It sounds like fun to be able to personalize every way you want to. I'm scared that my skills aren't good enough and I will be not be content with what I create. However, it will be my first time doing this so I will not be too hard on myself.