There are so many things on the internet that make me so happy!!! One of them is Netflix.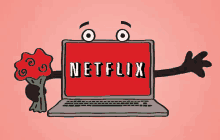 I could not have survived this pandemic without staring at an HD screen enjoying the most memorable moments of modern tv. Whether you're in the mood for something terrifying or rewatching the good all Office, there is nothing like going on ONE app/website and getting it all!
Trying to survive this pandemic has been a real struggle. Watching continuous hours of Hunter X Hunter, Dexter, or Sister Sister can be soothing when trying to avoid the chaotic actions around you. It may not seem like the best escape route, but it sure does the trick!
However, we should not avoid the inevitable outcomes of this pandemic. Sometimes we just need to take it all in and learn to live with it. After all, we are in this together and need to overcome it together.
I mean, if the cat can get through it, so can we!!! (I hope)